Smarter Philippines through Data Analytics R&D, Training and Adoption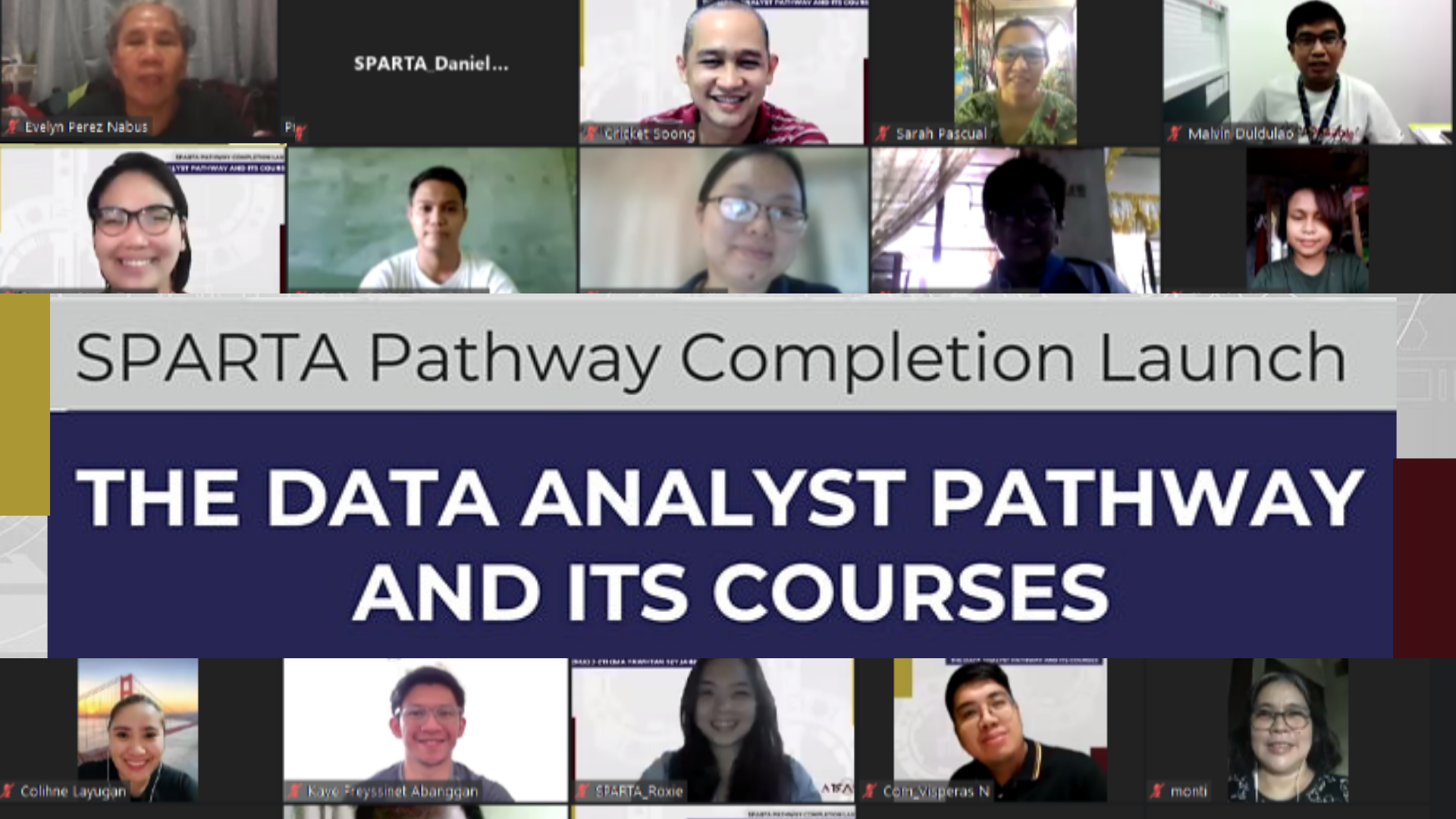 Project SPARTA launches first complete pathway
May 16, 2021
PASIG CITY, May 16-- Project SPARTA conducted an online event to launch the completion of the courses of its Data Analyst pathway. Entitled "SPARTA Pathway Completion Launch: The Data Analyst Pathway and its Courses," the event was held on May 5, 2021 from 3:00 to 4:30 p.m. via Zoom and Facebook to explain the relevance of the Data Analyst track in different industries and discuss the career opportunities that await its learners.
In his opening remarks, Development Academy of the Philippines Vice President and SPARTA Project Lead Dr. Alan Cajes, through SPARTA Project Manager Ms. Rea Geraldino, stated that SPARTA's goals of empowering 30,000 individuals in data science and analytics (DSA) and fostering a data-driven Philippines is now closer than ever with the completion of its twenty-two online courses. He emphasized the importance of Data Analysts and encouraged learners to persevere in their studies because their contributions are essential to the development of the country. Dr. Cajes also invited the participants to be part of the project's second conference that is set to happen on May 12, 2021.
Dr. Cajes' speech was followed by a discussion on the Data Analyst pathway that was led by SPARTA subject matter experts Ms. Frances Claire Tayco and Mr. Gabriel Kristopher Soong.
Both discussed the requirements of the pathway, including the courses and capstone project that learners need to take before obtaining their pathway or graduation certificates. Meanwhile,
Ms. Macrina Lazo, subject matter expert for SP1003, tackled the career opportunities for Data Analysts by talking about their roles and importance in various industries.
A question and answer portion followed the discussions which provided the participants an opportunity to interact with the subject matter experts and the SPARTA project team.
Ms. Glenda Dorcas Sacbibit, DOST-PCIEERD Supervising Science Research Specialist, then delivered the closing remarks. She thanked the people behind the project's success, stated that she hopes for more program graduates, and discussed SPARTA's implementation. She also talked about the GODDESS program and other initiatives that the Council has developed in order to boost the DSA environment in the country. Finally, she encouraged everyone to actively participate in SPARTA and pursue DSA projects that will help accelerate the country's innovation system.
More SPARTA launches are scheduled in the upcoming days as the project is targeting for the
completion of all pathways by June 2021. (DAP-SPARTA)