Smarter Philippines through Data Analytics R&D, Training and Adoption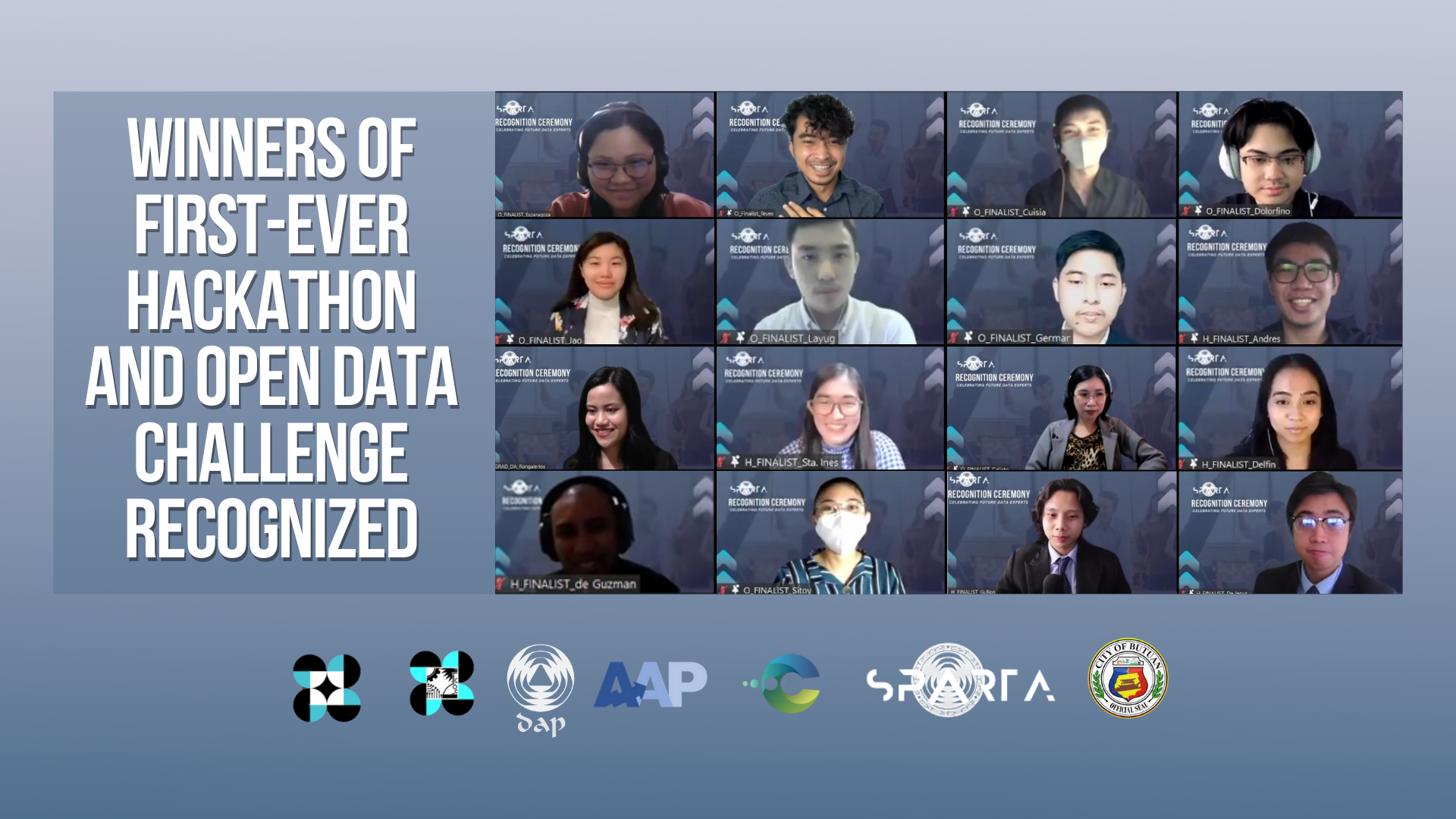 Winners of First-ever Hackathon and Open Data Challenge Recognized
Nov 15, 2021
Pasig City, November 15, 2021 – Birthed in 2020 by the combined vision of Project SPARTA and Butuan City to seek innovative solutions, the much-awaited winners of Butuan Hackathon and Open Data Challenge have finally been announced during project Smarter Philippines through Data Analytics, R&D, Training and Adoption's (SPARTA) Online Recognition Ceremony on November 12, 2021. A total of 93 groups joined the competition: 81 for the Hackathon and 12 for the Open Data Challenge.
The team Haka Ton with members Gilbert Alvin Andres, Joseph de Guzman, and Lynell Sta. Ines was announced as the grand winner of the Hackathon Category. Team Hacka Hacka 2 with members James Alvic Delmier and Florianne Rongalerios clinched 2 nd place while the group Sigma composed of Deric Miguel Gullon, Neil De Jesus, and Aneko Delfin bagged 3 rd place in the Hackathon.
Special Awards, namely the Best in Data Utilization, Best in Ingenious Solution, and Best New Knowledge, were all secured by the team Haka Ton.
For the Open Data Challenge Category, Electrum et Komunikado with members Dyan Esparagoza, Jomari Cuisia, and Winbert James Teves, was announced the grand winner. Datos Puti with members Fiona Beatriz Jao, Uriel Dolorfino, Francisco Javier Atanacio, Jose Lorenzo Layug, and Miguel Antonio Germar earned 2 nd place while G! Sivica! Analytical Solutions with members Jones Flipper Gaquit, Sherel Jade Calixto, Aleimar Villabrille, and Eva Sitoy won 3 rd place.
Datos Puti received the Best in Ingenious Solution Special Award, while Electrum et Komunikado bagged both Best in Data Utilization and Best New Knowledge special awards.
The grand winners will receive PHP 15,000 and hoodies, 2nd place will receive PHP 10,000 and hoodies, and the 3rd place will receive PHP 5,000 plus hoodies. Meanwhile, each special award will grant the teams PHP 1,500 and SPARTA t-shirts.
The Chief Executive Officer of the City of Butuan, Mayor Ronnie Vicente Lagnada, welcomed the awarding of the winners from their city and the great impacts of their
projects to the majority.
"The conduct of Hackathon and Open Data challenge in Butuan City allows us to be a recipient of fresh innovations and ideas from young visionaries aligned with our identified set parameters," Mayor Lagnada said.
Development Academy of the Philippines (DAP) President and CEO, Atty. Engelbert Caronan, Jr. also congratulated the winners.
"May you continue to use your skills not only for the betterment of your city but of the country as a whole," he said.
SPARTA's Hackathon for Butuan City aims to encourage the participants to come up with data-driven solutions and approaches to the existing problems of the city. On the other hand, the Open Data Challenge aims to solicit ideas for Butuan's open data program by making use of the city's raw digitized data assets.
Another set of these contests will also be launched for the cities of Iloilo and Cauayan.