Smarter Philippines through Data Analytics R&D, Training and Adoption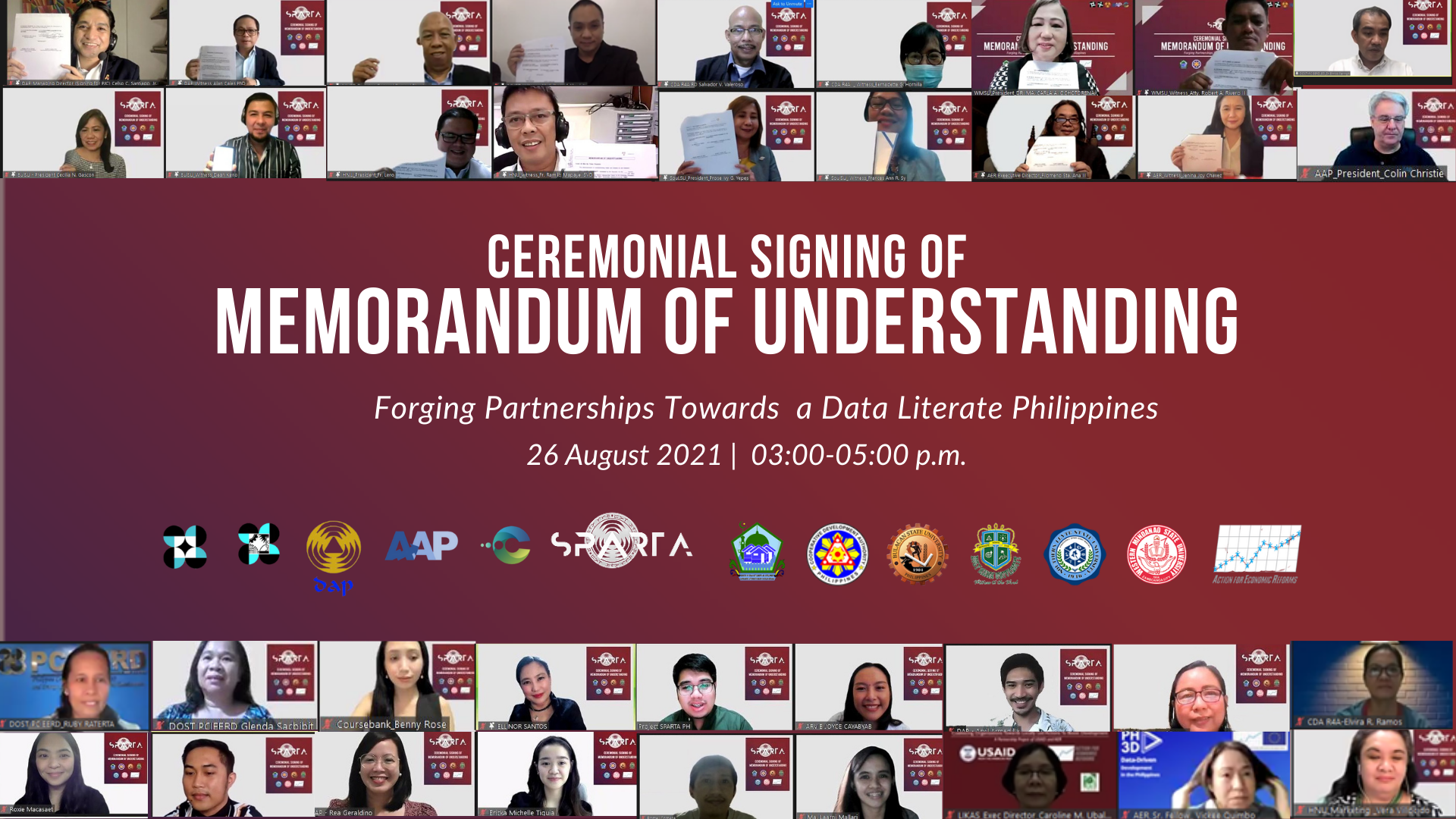 DAP Inks MOU with Seven New Partners
Sep 02, 2021
September 2, 2021- The Development Academy of the Philippines (DAP) signed a Memorandum of Understanding (MOU) with seven new institutions and organizations on August 26, 2021, to promote and foster the analytics ecosystem in the country through the Project Smarter Philippines through Data Analytics R&D, Training and Adoption (SPARTA).
The seven institutions are national government agencies (NGAs), higher education institutions (HEIs), and a non-government organization (NGO), namely the Bangsamoro Autonomous Region in Muslim Mindanao - Ministry of Human Settlements and Development (BARMM-MHSD), Cooperative Development Authority (CDA) Region IV-A, Bulacan State University (BulSU), Holy Name University (HNU), Southern Leyte State University (SouLSU), Western Mindanao State University (WMSU), and Action for Economic Reforms (AER).
The ceremonial MOU signing was conducted via Zoom and livestreamed at Project SPARTA and the partner institutions' Facebook pages. It was attended by the heads and key officials of the said organizations, who acted as signatories and witnesses of the agreement.
The project's implementing agencies also graced the event as shown by the presence of Coursebank Chief Executive Officer Mr. James Dimaculangan and Analytics Association of the Philippines President Mr. Colin Christie.
Department of Science and Technology - Philippine Council for Industry, Energy and Emerging Technology Research and Development (DOST-PCIEERD) Executive Director Dr. Enrico Paringit delivered the welcome remarks.
"We at PCIEERD are staunch advocates of uplifting Filipinos through capability building programs such as SPARTA [and we] are elated that these kinds of institutions will officially forge partnership to upskill their students, their faculty members, and employees...So, we are just so glad that our forging partners in today's affair are one with us in this goal of upskilling our Filipino workforce," Dr. Paringit stated as he welcomed the new partners.
Dr. Paringit then presented data about the project and emphasized the need to increase the number of SPARTA learners outside the National Capital Region (NCR) to spur countryside development. He also mentioned the agency's data science and analytics (DSA) projects in the works under the Good Governance through Data Science and Decision Support System (GODDESS) program.
Aside from this, SPARTA has also completed three of its six pathways, with the addition of the Data Steward and the Analytics Manager tracks. 26 out of its 30 massive open online courses (MOOCs) are now available, and the project team is expecting the launch of the four remaining courses towards the end of its second year.
As the project's second year of implementation draws near, SPARTA is hopeful that its goal of 30,000 DSA-empowered Filipinos and a flourishing analytics ecosystem is on the horizon.