Smarter Philippines through Data Analytics R&D, Training and Adoption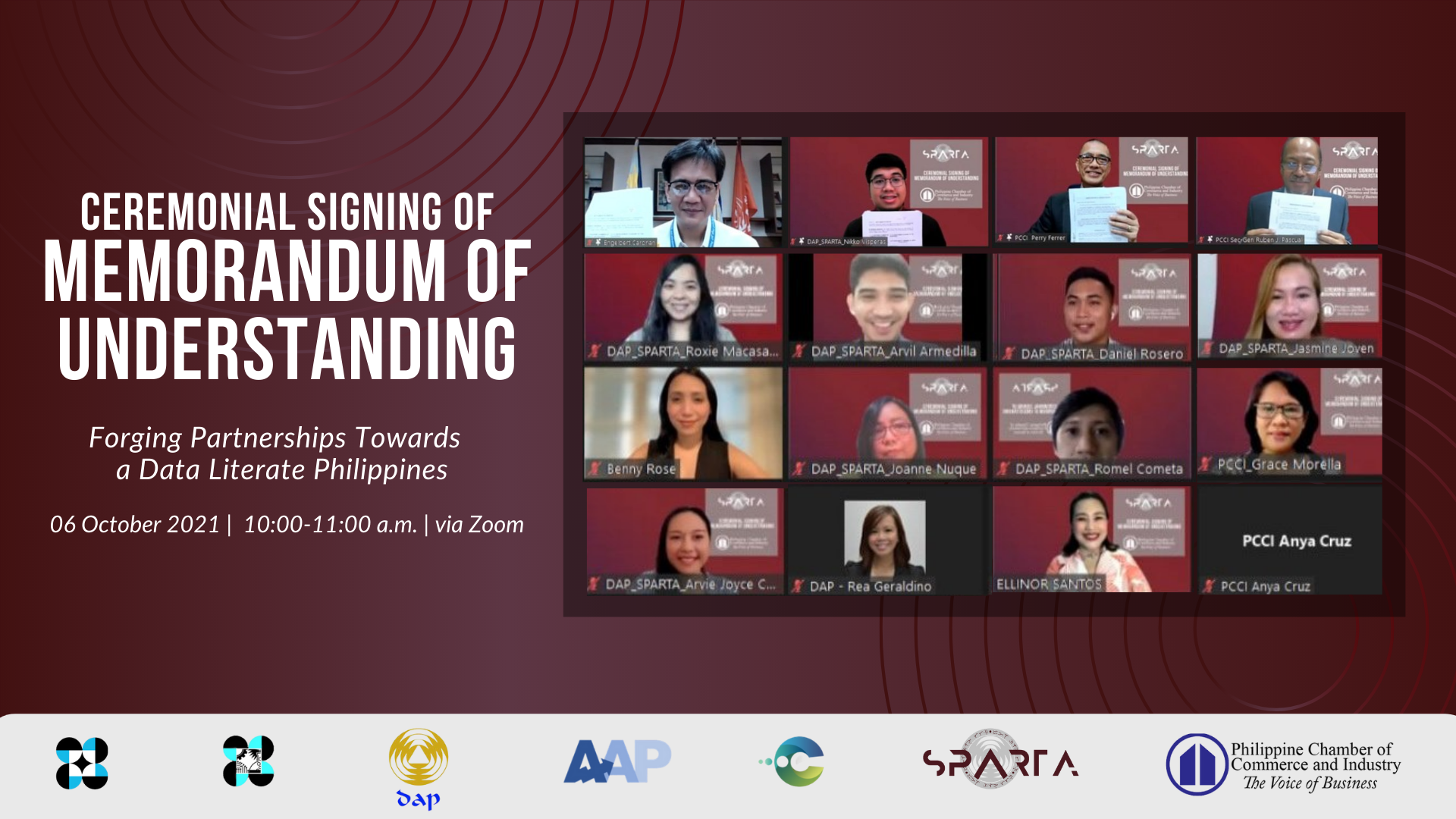 DAP partners with PCCI for a data-driven business sector
Oct 21, 2021
Pasig City, October 21, 2021- The Development Academy of the Philippines (DAP) signed a Memorandum of Understanding (MOU) with the Philippine Chamber of Commerce and Industry (PCCI) last October 6, 2021, to formally combine their efforts in fostering a data-driven nation through the Project Smarter Philippines through Data Analytics, R&D, Training, and Adoption (SPARTA).
The signing ceremony was conducted on Zoom and livestreamed via SPARTA's Facebook page and YouTube channel. The signatories were DAP President and Chief Executive Officer Atty. Engelbert Caronan Jr., SPARTA Deputy Project Manager and Events Lead Mr. Nikko Visperas, PCCI Secretary-General Mr. Ruben Pascual, and PCCI Director and Innovation Committee Chairman Mr. Ferdinand Ferrer.
In his speech, Atty. Caronan talked about the contribution of data as one of the drivers of growth and emphasized the importance of capacitating the country's workforce through Data Science and Analytics (DSA).
"You are not only empowering your human resource by unleashing their potential, but you are also making an effort to contribute to our country's economic success by adapting and utilizing methods that will improve your business performance, which can ultimately lead to a thriving business sector," Atty. Caronan said as he praised PCCI's commitment to upskill and reskill its workforce.
Secretary-General Pascual said that PCCI's partnership with DAP-SPARTA is in line with their current initiative of innovation and affirmed their commitment to mainstream DSA in the country, especially in the business sector.
Likewise, he mentioned the need to disseminate SPARTA to the local government units (LGUs) in order to fully achieve the country's thriving analytics ecosystem.
"I am also interested in identifying more LGU partners because I think that's a step to the right direction, that when you bring it down to the LGU, mas marami pa ang makikinabang at makakaintindi ng data science and analytics," Mr. Pascual stated.
Mr. Pascual also invited the DAP to visit their world-class innovation center and attend their Philippine Business Conference and Expo.
The country's largest business organization became the Academy's 26th SPARTA institutional partner through the formal agreement. Aside from the provision of scholarship slots to employees and the integration of DSA courses to PCCI's training or career development plans, the agreement also allowed the sharing of open data sets between the two institutions.