Smarter Philippines through Data Analytics R&D, Training and Adoption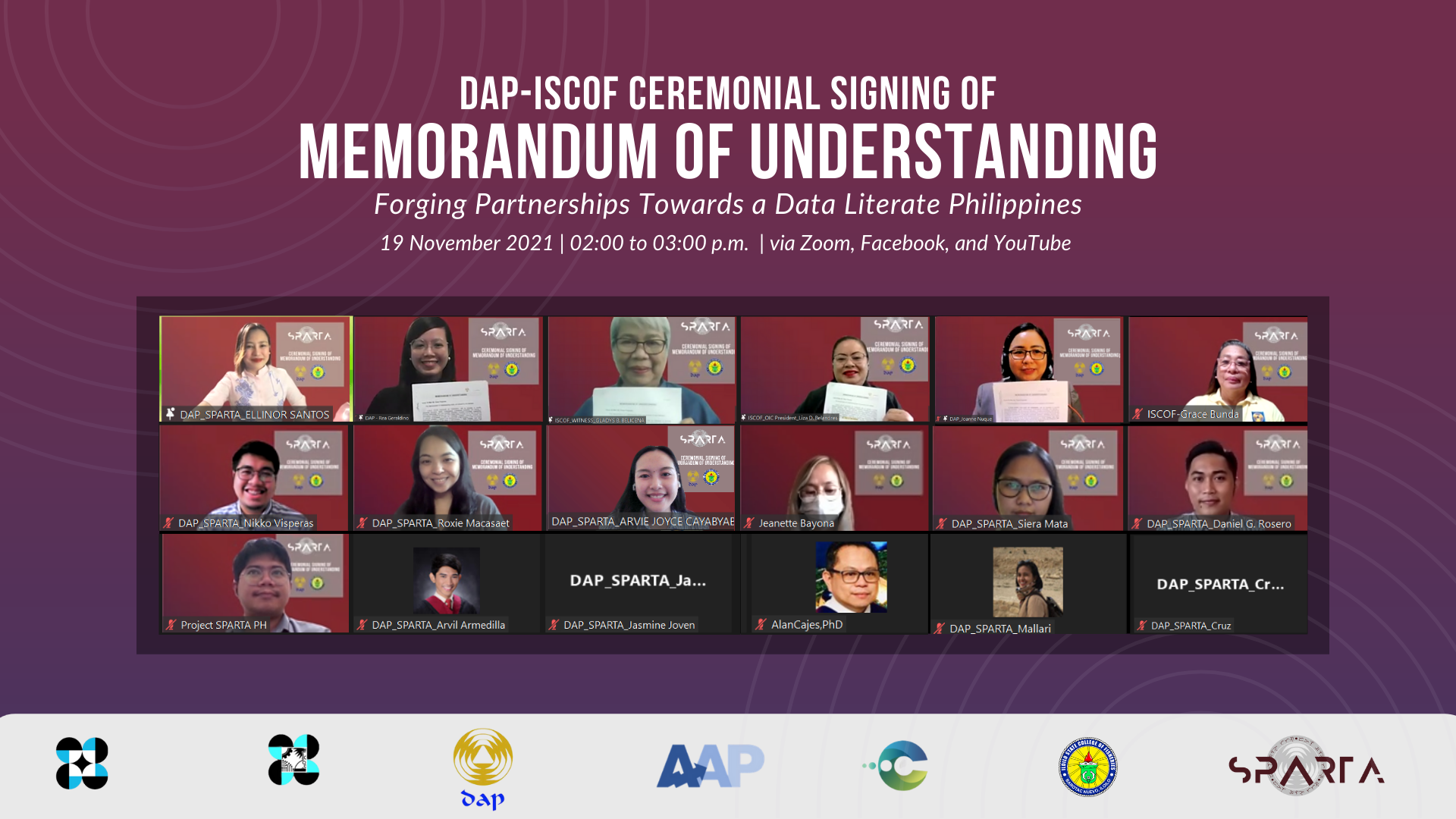 DAP signs MOU with 27th SPARTA Institutional Partner to Empower Fisheries Sector
Nov 19, 2021
Pasig City, November 19, 2021 – The Development Academy of the Philippines (DAP) inked a Memorandum of Understanding (MOU) with the Iloilo State College of Fisheries (ISCOF) on November 19, 2021 to foster a data-driven ecosystem through the project Smarter Philippines through Data Analytics, R&D, Training, and Adoption (SPARTA).

ISCOF is the 27th institution that partnered with DAP-SPARTA in the upskilling and reskilling of the country's workforce in Data Science and Analytics (DSA). They are also SPARTA's first partner in its third year of implementation.

Development Academy of the Philippines (DAP) Institutional Marketing Center Officer-in-Charge, Ms. Joanne Liezl Nuque, represented President and CEO Atty. Engelbert Caronan, Jr. during the signing. She shared that by training experts in DSA for the fisheries sector, DAP and ISCOF can work together to ensure the livelihoods of many Filipinos and to secure a vital food source.

"With ISCOF, we are more hopeful that our advocacy would also spread at the grassroots level to promote more inclusive development for our communities. Together, we can empower our fisheries sector through DSA and we can encourage collaboration among our peers from the academe, government agencies, local government units, non-government associations and industry partners to resolve crucial concerns that affect our economy and the development of our fellow Filipinos," Ms. Nuque said.

ISCOF's OIC-President, Dr. Liza Belandres, echoed this statement and expressed their strong commitment to their partnership with DAP-SPARTA.

"Thank you very much to our partner, the Development Academy of the Philippines, for the trust and confidence bestowed on us. Rest assured that we will remain steadfast in our commitment to the accomplishment of this project, and we hope that this would not be the last but only the beginning of more projects and partnerships that our institution could work together in the future," she said.

The MOU will give way to the provision of SPARTA scholarship slots, sharing of open data sets, and integration of courses to the College's training development plan and curricula.