Smarter Philippines through Data Analytics R&D, Training and Adoption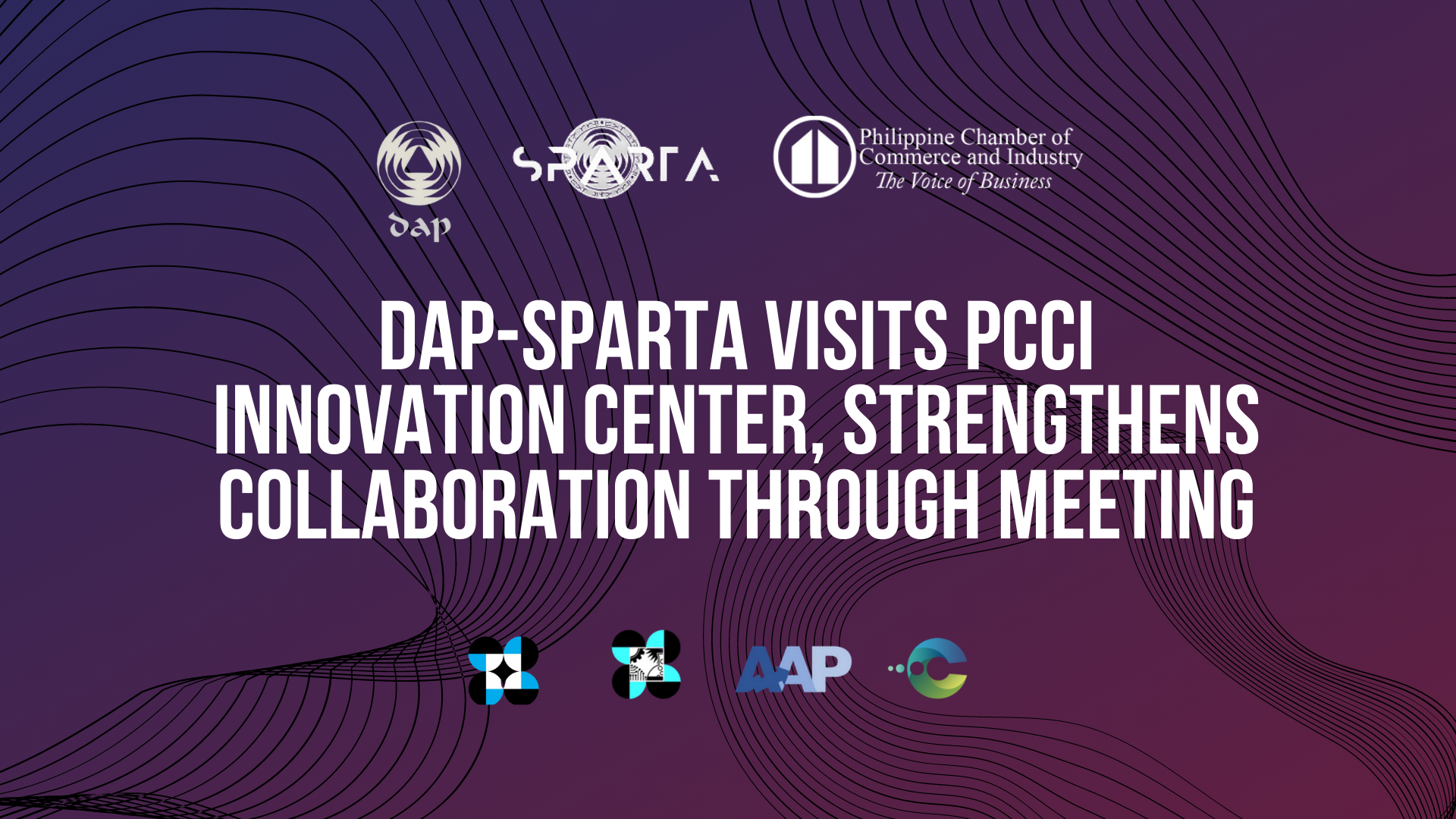 DAP-SPARTA visits PCCI Innovation Center, strengthens collaboration through meeting
Nov 02, 2021
Pasig City, November 2, 2021 – The Development Academy of the Philippines (DAP), Project Smarter Philippines through Data Analytics, R&D, Training, and Adoption (SPARTA), and the Philippine Chamber of Commerce and Industry (PCCI) continue to strengthen their partnership as they conducted a joint brainstorming meeting during their visit to the PCCI's Innovation Center in Pasay City.
PCCI identified eleven (11) industries under their supervision that they wish to tap and collaborate with to disseminate the information and interest on Data Science and Analytics (DSA). These industries are Agriculture, Construction, Plastics, Steel, Cement, Manufacturing, Mining, Electronics, Logistics, Retailers Association, and Export Association.
Project SPARTA will be working hand in hand with these PCCI-supervised industries in utilizing DSA to understand their trends and gaps and steer a stronger economy in the post-pandemic recovery period.
The Innovation Center is a state-of-the-art facility built to showcase in-demand skills in fields such as Artificial Intelligence (AI), Robotics, Coding, Big Data Analytics, Internet of Things, and Blockchain. Similar to Project SPARTA's goal to strengthen the skill set of the nation's workforce, the center also offers "tailored curriculums and certification programs to facilitate learning opportunities for entrepreneurs, established businesses, start-ups, and LGUs."
In attendance at the meeting were Atty. Engelbert C. Caronan Jr., DAP President and CEO; Amb. Benedicto V. Yujuico, PCCI President; Mr. Ferdinand "Perry" A. Ferrer, PCCI Director for Innovation Committee and Committee Chair for Industry Committee; Mr. Ruben J. Pascual, PCCI Secretary-General; Ms. Rhuby R. Conel, PCCI Assistant Secretary-General, Advocacy, Research and Corporate Communication Department (ARCC); Ms. Alyanna Victoria V. Manuel, Supervisor, Industry Committee, ARCC; Ms. Anya Marie T. Cruz, Supervisor, Innovation Committee, ARCC; Ms. Rose Mañalac, Specialist, Utilities and Legislative Committee, ARCC; Ms. Elisha Isobel M. Sanchez, Executive Assistant to the Secretary-General; and project SPARTA team members.
Project SPARTA mirrors PCCI's endeavor by ensuring the upskilling of the present and future workforce and providing graduates with employment opportunities in different industries.