Smarter Philippines through Data Analytics R&D, Training and Adoption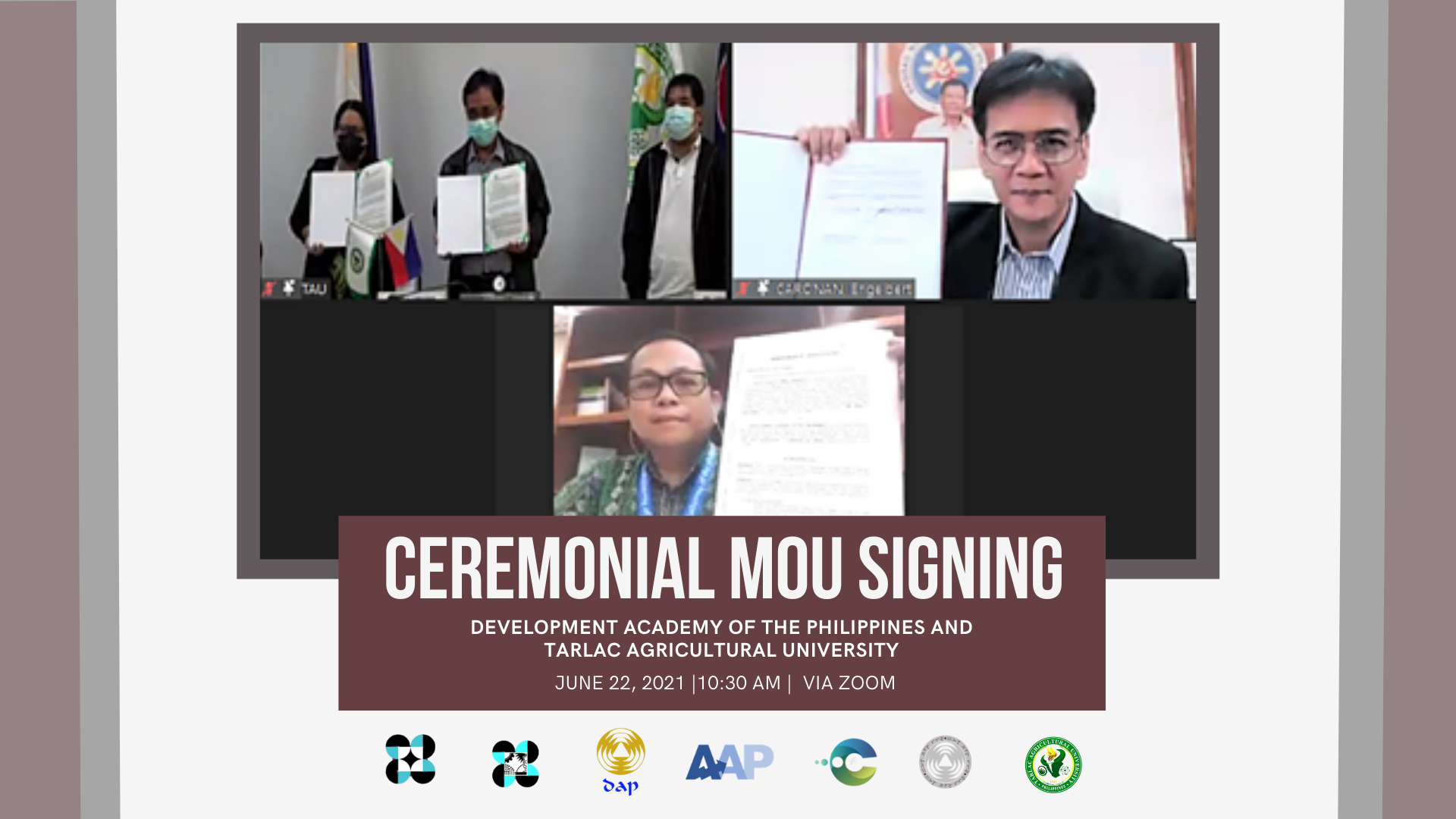 DAP and TAU forge partnership to boost PH's DSA ecosystem
Jun 23, 2021
June 23, 2021- The Development Academy of the Philippines (DAP) signed a Memorandum of Understanding (MOU) with the Tarlac Agricultural University (TAU) to signify their partnership in furthering the country's data science and analytics (DSA) ecosystem.

The ceremonial signing was held on June 22 via Zoom. It was attended by DAP President and CEO Atty. Engelbert Caronan Jr., TAU President Dr. Max Guillermo, officers of both organizations, and Project SPARTA partners Department of Science and Technology Philippine Council for Industry, Energy, and Emerging Technology Research and Development (DOST-PCIEERD), Coursebank, and the Analytics Association of the Philippines (AAP).
"We at DOST are optimistic that the 30,000 SPARTA graduates, which includes those from the Tarlac Agricultural University, will share their knowledge and expertise to teach more Filipinos increating a bigger community of data science and analytics practitioners, and develop projects to provide solutions to help our LGUs and NGAs," DOST-PCIEERD OIC Deputy Executive Director
Engr. Niñaliza Escorial said as she expressed her optimism for the valuable contribution of SPARTA graduates.

She also reiterated the agency's commitment in uplifting the Filipino workforce and assisting the country's growth and development through DOST's continuous support for DSA projects.

Atty. Caronan emphasized the importance of partnership and collaboration. He then expressed his gratitude for TAU's trust in the Academy and in SPARTA by saying that "I am extremely grateful to move forward by forging this new partnership with SPARTA's 18th partner, the Tarlac Agricultural University. I believe that [by] forming this linkage, we are on track towards our shared goal of establishing a vibrant data science and analytics ecosystem in the Philippines."
Dr. Guillermo also expressed the same sentiments. He also noted the need to adapt and embrace the changes in the education landscape. "As an educational institution, TAU recognizes its responsibility to respond to these changes. Thus, it has always been our advocacy to forge meaningful partnerships with institutions like the Development Academy of the Philippines to make our institution become more relevant in the future, and hopefully to produce graduates that can be competitive... in the digital world," he said during his message.

Through the MOU signing, TAU became DAP-SPARTA's 18th institutional partner. The partnership recognized TAU's participation in SPARTA's implementation of DSA knowledge democratization and fostering of smart governance practice in the country.