Smarter Philippines through Data Analytics R&D, Training and Adoption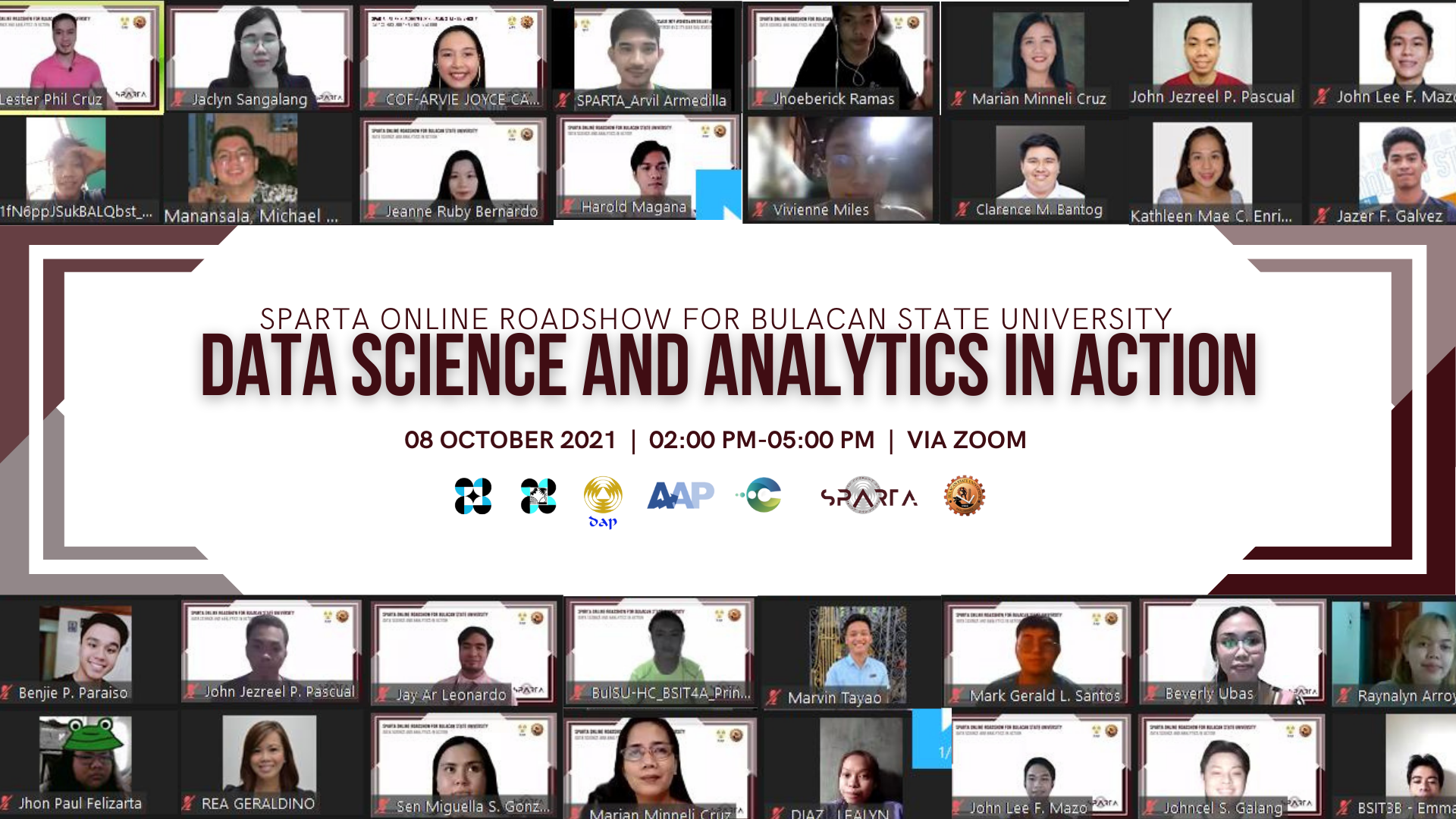 SPARTA and BulSu join hands in promoting Data Science and Analytics
Oct 21, 2021
Pasig City, October 21, 2021 – The project Smarter Philippines through Data Analytics, R&D, Training, and Adoption (SPARTA), together with the Bulacan State University (BulSU), organized the SPARTA Online Roadshow with the theme, "Data Science and Analytics in Action."

Project SPARTA serves as a platform for future Data Science and Analytics (DSA) professionals by providing free online education, research and development mechanisms, and infrastructures.

In her opening remarks, Dr. Cecilia Navasero-Gascon, President of Bulacan State University, said that "The SPARTA Online Roadshow aims to support and showcase the wider world of data science and analytics that will help provide relevant and quality education and sustainable technological advancement."

She also affirmed that this will build the capacity of their Information and Technology students and faculty in leading and developing the data acumen that wrangles behind the complex data world.

Dr. Teodoro Lloydon Bautista, SPARTA Subject Matter Expert and Faculty Member of the Development Academy of the Philippines Graduate School of Public and Development Management (DAP-GSPDM), also shared his valuable insights on DSA.

"Data analytics help us understand and control the phenomenon on which we live in...it helps us predict what can happen and help us also understand why things happen," he shared.

The overview of SPARTA and the importance of DSA were further explained by Ms. Ellinor Santos, SPARTA Partnerships Component Lead, as she emphasized that there is a need to bridge the gap between the low number of Filipino workforce engaged in DSA and the number of DSA teachers in the future.

She also imparted that many jobs will require automation in the future and will generate more positions in the labor market. This means that 40 percent of the workforce needs to upskill and re-skill on DSA as businesses expand on digital space. In the end, Ms. Santos called the students to action to be agents of data analytics.

Meanwhile, Ms. Jaclyn Sangalang, Coursebank Instructional Design Lead, guided the audience on SPARTA's application process. Mr. Keno Piad, Dean of BulSU College of Information and Communications Technology, also participated and encouraged their students to enroll in and finish the program.

Project SPARTA was made possible through the partnership of the Development Academy of the Philippines with the Department of Science and Technology (DOST), DOST-Philippine Council for Industry, Energy and Emerging Technology Research and Development (DOST-PCIEERD), Analytics Association of the Philippines, and Coursebank. It offers six learning pathways with 30 Massive Open Online Courses and has more than 35,000 enrolled students to date.