Smarter Philippines through Data Analytics R&D, Training and Adoption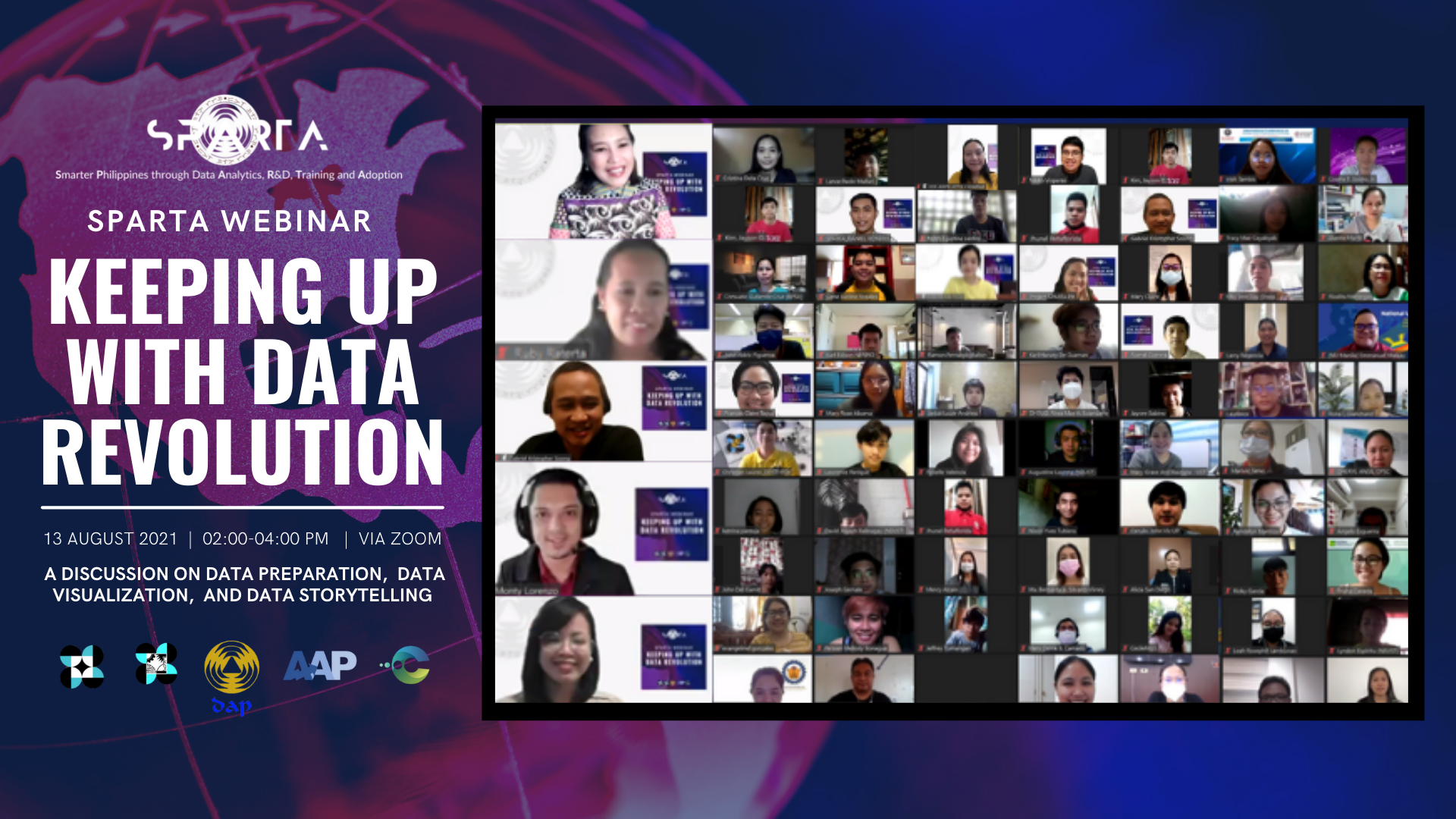 SPARTA Conducts Webinar on Data Revolution
Aug 19, 2021
Pasig City, August 19, 2021- To impart the significance of data in this modern age, Project Smarter Philippines through Data Analytics R&D, Training and Adoption (SPARTA) held a webinar on August 13, 2021. The online event, attended by more than 300 Zoom participants and watched by more than 1,200 Facebook viewers, focused on the importance of data brought on by the demands of the fourth industrial revolution by discussing topics on data preparation, visualization, and storytelling.

In her opening remarks, Department of Science and Technology-Philippine Council for Industry, Energy and Emerging Technology Research and Development (DOST-PCIEERD) Human Resources and Institution Development Division Chief Dr. Ruby Raterta highlighted the importance of data science and data analytics, and mentioned the government projects that aim to further the country's analytics ecosystem.

"Data science can certainly help the government and make quick and improved decisions. The usual connotation that government services are slow will be erased eventually and thus, we can help in enhancing productivity, transparency, and cost reduction," Dr. Raterta said in a statement.

SPARTA subject matter experts (SMEs) University of the Philippines-Diliman Assistant Professor Simon Anthony Lorenzo and CirroLytix Research Services Emerging Technologies Consultant Mr. Gabriel Kristopher Soong led the discussions.

Assistant Professor Lorenzo provided a brief overview of data preparation by talking about the roles of data engineers and discussing the steps of data cleaning. On the other hand, Mr. Soong presented the best practices of data visualization and storytelling by providing real-life applications of these subjects.

The discussions were followed by a quick question and answer portion where the SMEs interacted with the participants.