Smarter Philippines through Data Analytics R&D, Training and Adoption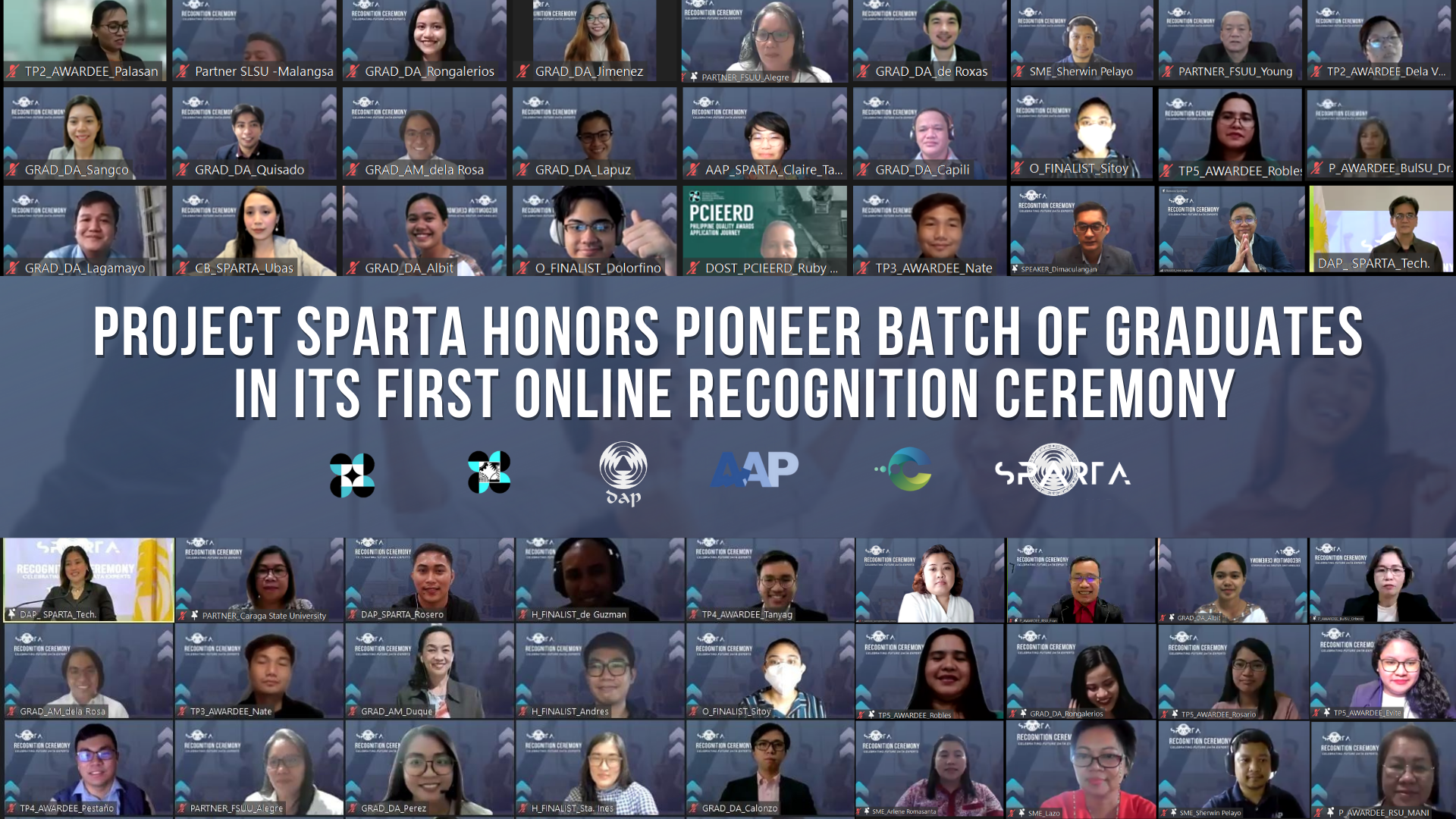 Project SPARTA honors Pioneer Batch of Graduates in its first Online Recognition Ceremony
Nov 12, 2021
Pasig City, November 12, 2021 – The project Smarter Philippines through Data Analytics, R&D, Training and Adoption held its first Online Recognition Ceremony, honoring 23 graduates from the Data Analyst pathway and 7 from the Analytics Manager pathway.
The partner institutions, winners of the Butuan Hackathon and Open Data Challenge, special awardees, and the top-performing scholars per pathway were also recognized.
The Development Academy of the Philippines (DAP) President and CEO, Atty. Engelbert Caronan, Jr., officially welcomed the participants to the event and expressed the importance of the graduates to the country's workforce, economy, and the society.
"To our graduates, as you give data its rightful shape and meaning, may your work also give shape and meaning to the individuals and communities around you. This power and this potential are what we recognize and celebrate today," he said.
The Department of Science and Technology (DOST) Secretary Fortunato de la Peña delivered the event's Commencement Speech. He stated that Data Science is a potent field that is yet to unleash its full potential in the country. In addition, he hopes to see more innovations through Project SPARTA.
"We would like to congratulate all our SPARTA Scholars today who have mightily finished their course and will now be ready to take on real-life challenges on data science. We are truly proud of your achievements in completing your course despite the challenges brought upon us by the pandemic. We look forward to what you will become in the future in the field of data science and to the wonders that you will bring to the Philippines from your brilliant minds," he said.
Sec. de la Peña also added that "by completing the courses under the learning platform, he wishes to see more data-driven projects, policies and systems that would address the needs of our localities or even the national government."
Meanwhile, Mr. Arbie dela Rosa, a graduate of the Analytics Manager pathway, represented the graduates in sharing their experience as scholars and in preparing for the challenges of the industry.
"We were able to gain new perspectives, and it just proves the wide potential of applying the analytics core courses in these areas. To which, our pathway capstone course was indeed a good test. It challenged us to look to the bigger picture, understand the value-adding benefits of analytics in a certain area, and consequently, develop a roadmap to ensure that our vision translates into an operable system. Indeed, project SPARTA was able to deliver on the objectives in a way of equipping the right tool of analytical operations."
The event also showcased its achievements such as the project's second year accomplishments which included 3 completed pathways, 26 available online courses, 38,619 scholars, and 26 partner agencies and institutions.