Smarter Philippines through Data Analytics R&D, Training and Adoption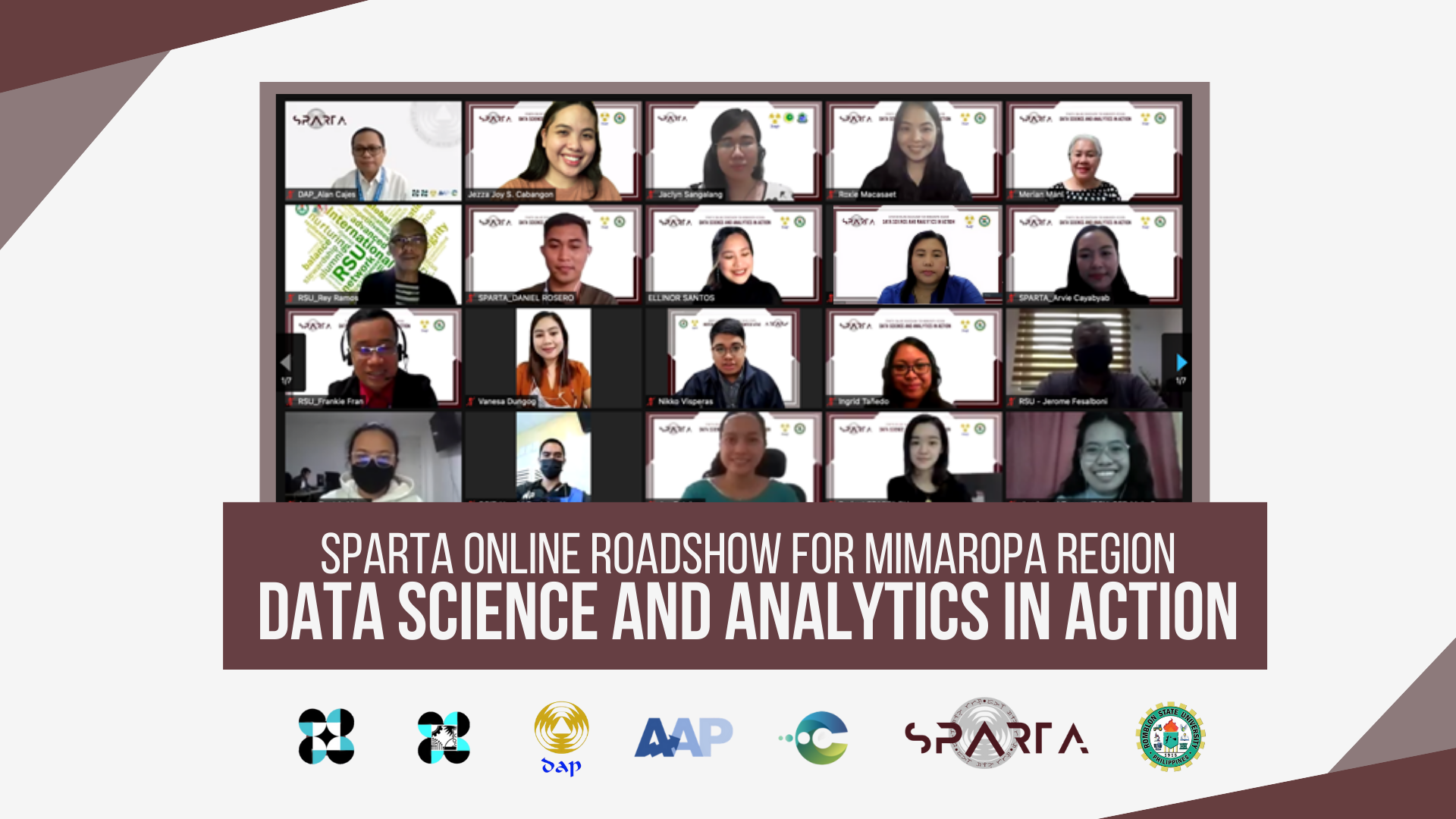 SPARTA, Romblon State University conducts DSA Roadshow For a Smarter and Data-driven MIMAROPA
Aug 04, 2021
Pasig City, August 4, 2021- In collaboration with the Romblon State University (RSU), Project Smarter Philippines through Data Analytics Research and Development, Training and Adoption (SPARTA) held an online roadshow for the MIMAROPA region. The event was conducted via Zoom and livestreamed via Facebook on July 29, 2021, from 2:00 to 5:00 p.m.
In her opening remarks, RSU President Dr. Merian P. Catajay-Mani emphasized the need to keep up with other nations and academic institutions in terms of science and technology. She also talked about the importance of data science and analytics by saying that, "Knowledge is the new currency now and data is the new oil...We are bombarded [with], we collect, [and] we gather huge data everyday. But this data will not have any value unless we know [that] data science and data analytics [are] put together, so that all this data would help us to be able to make decisions that are data-driven and that we will be able to also make well-thought-of decisions and policy reforms."
President Mani's message was followed by a keynote address from the Department of Information and Communications Technology Cybercrime Investigation and Coordinating Center (CICC) Chief and SPARTA Subject Matter Expert Ms. Arlene A. Romasanta. Aside from discussing the fundamentals and importance of data science and analytics (DSA), Ms. Romasanta also encouraged the audience to apply their learnings, noting that, "Learning is a lifelong journey...all of us can continue learning through application. When we say application, that is the best key. Why? Because that is where experience comes in. So, even if we have all the background [and] we have the interest, but we do not apply what we learn, [then] there is lacking in our own capability. So, it is important that we apply our learnings in data science."
SPARTA Deputy Manager and Events Lead Mr. Nikko B. Visperas then gave a brief orientation of the project and discussed the learning opportunities that await SPARTA's learners while Ms. Jaclyn Sangalang of Coursebank gave a walk through of the project's application process.
A final note and acknowledgment was given by Director Frankie A. Fran of RSU Training Services Office where he expressed his gratitude and appreciation to all who contributed to the success of the event. He said that, "this roadshow opened the doors for more opportunities and strengthened our partnerships and collaborations with our neighboring provinces," and hoped that participants "have gained meaningful insights from today's activity... This is only the beginning and we hope to receive your applications for endorsement to Project SPARTA."
The event ended with closing remarks from SPARTA Project Lead and Development Academy of the Philippines Vice President Dr. Alan S. Cajes. He stressed that Filipinos can benefit from learning data science by, "first, through the employment opportunities for our data scientists, and second, by harnessing their expertise in solving socio-economic problems at the national and local levels, as well as creating public and customer value through new products, improved services, and evidence-based policies."
Apart from the speeches, a question and answer session was also conducted to clarify the participants' inquiries about the program. The audience was also given an opportunity to win SPARTA merchandise through an icebreaker game.