Smarter Philippines through Data Analytics R&D, Training and Adoption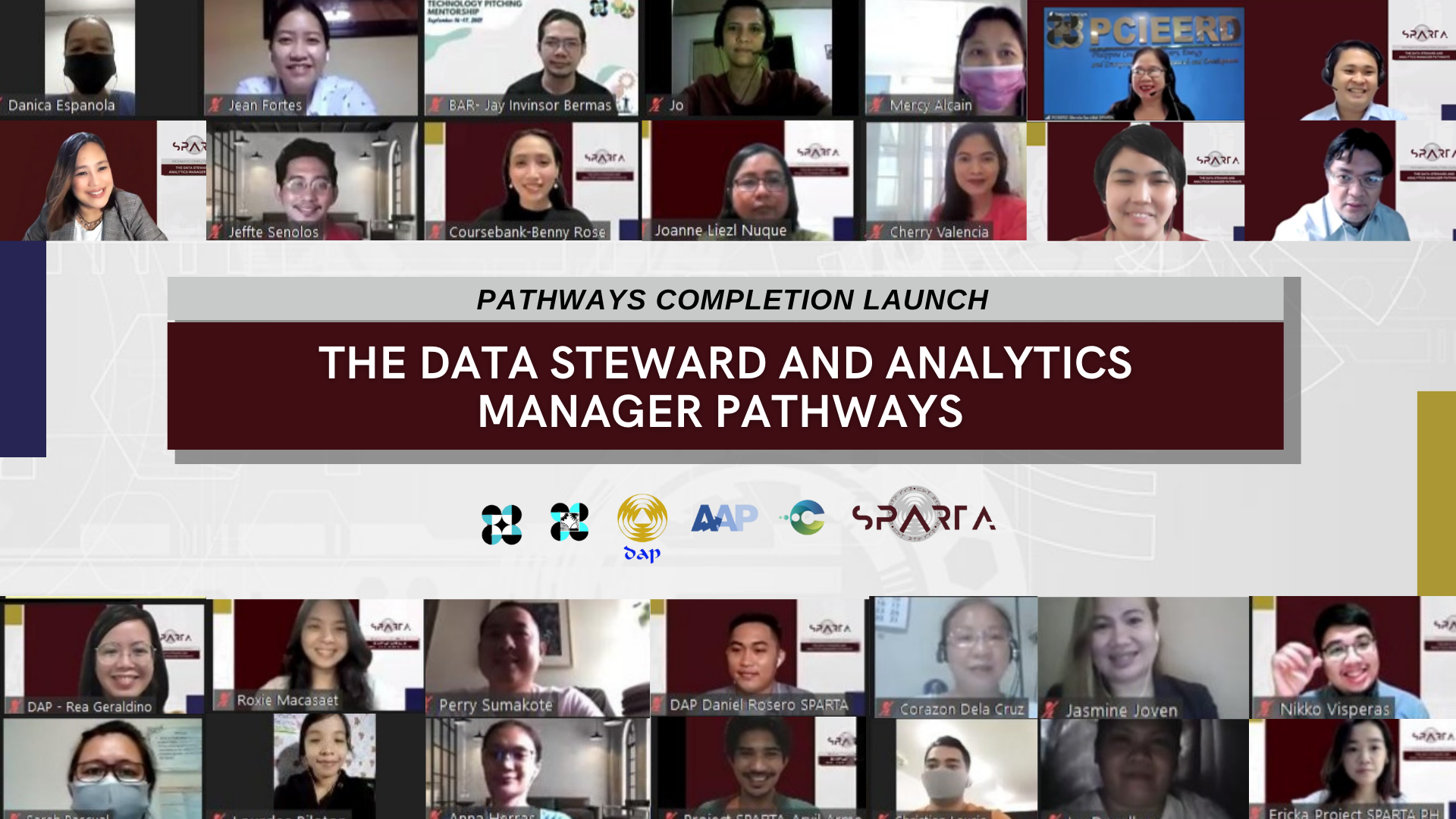 Project SPARTA launches two more DSA pathways
Pasig City, September 20, 2021 - Project Smarter Philippines through Data Analytics, R&D, Training, and Adoption (SPARTA) launched two more data science and analytics (DSA) pathways in an online event entitled "SPARTA Pathways Completion Launch: The Data Steward and Analytics Manager Pathways," conducted via Zoom and livestreamed via Facebook and YouTube last September 16, 2021.

Ms. Glenda Dorcas T. Sacbibit, the Supervising Science Research Specialist of the Department of Science and Technology-Philippine Council for Industry, Energy, and Emerging Technology Research and Development's (DOST-PCIEERD) Human Resource and Institution Development Division, welcomed the participants.
"We hope [that] through the SPARTA training and the GODDESS (Good Governance through Data Science and Decision Support System) program, we will be able to increase our DSA workforce and capacitate Filipino researchers that can be agents for data analytics projects," Ms. Sacbibit said on her opening remarks.
Project SPARTA Curriculum Lead and Subject Matter Expert (SME), Ms. Frances Claire S. Tayco, gave an overview of the two pathways and urged Filipinos to enroll in the project.
SPARTA SME and BDO Unibank Inc. Assistant Vice President and Anti-Money Laundering Department- Analytics Section Head, Mr. Aldrie Chester D. Lim, spoke about the roles and significance of Analytics Managers. On the other hand, Founder, Principal Consultant, and Chief Technology Officer of the CirroLytix Research Services, and another SPARTA SME, Mr. Dominic Vincent D. Ligot, talked about Data Stewards.
Coursebank Chief Executive Officer Mr. James R. Dimaculangan capped off the event in his closing remarks.
"Moving forward, I challenge you to be the diamonds, to be the movers, the shakers, and the ones that will bring out the best in our nation. Jumping from Project SPARTA, I hope that we witness many more ideas on paper turn into reality. Even better if these ideas are the ones that strengthen the DSA ecosystem in our country," Mr. Dimaculangan said as he challenged the scholars to apply what they have learned for the betterment of the country.
Currently, SPARTA has almost 35,000 enrolled scholars, 26 available courses, and three complete pathways. The project aspires to launch more events to attain its goal of training data-driven Filipinos and cultivating the country's productive and thriving analytics ecosystem.